Antique 1894 Elgin Natl Pocket Watch 11 Jewel Gold Hunter Case For Parts/repair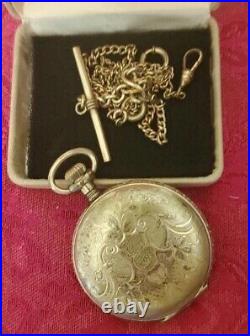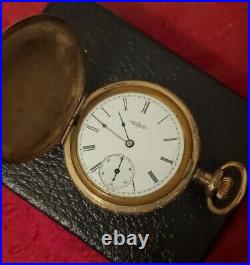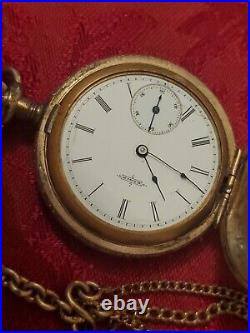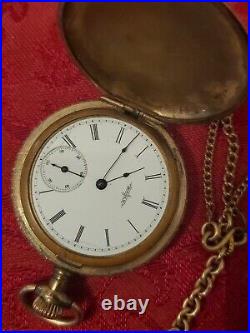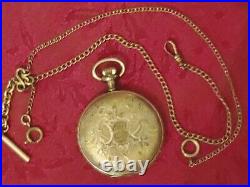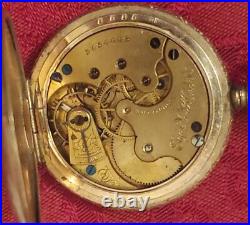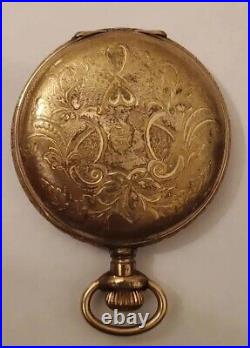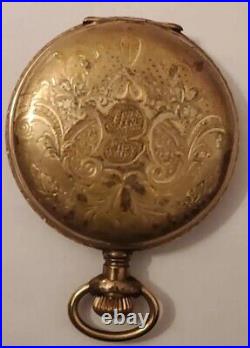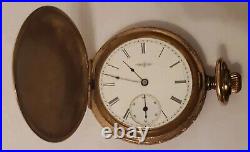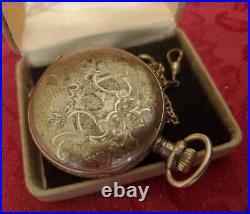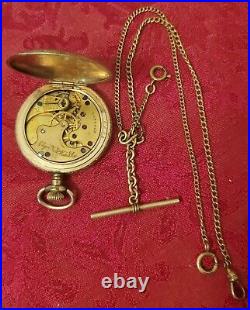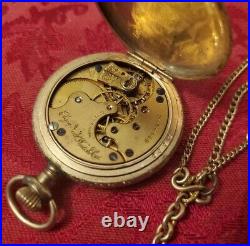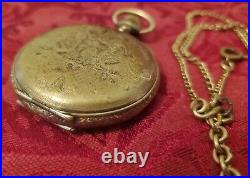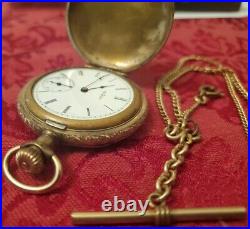 ANTIQUE 1894 ELGIN NATIONAL POCKET WATCH GOLD FILLED? WEIGHS 54 GRAMS (64 GRAMS WITH CHAIN). UNTESTED - FOR REPAIR/RESTORATION/PARTS (See Below). GOLD-TONE METAL CASE - POSSIBLY GOLD PLATED over BRASS OR GOLD FILLED. HAS 2 SIDED HUNTER CASE WITH HINGED LIDS. ONE SIDE DISPLAYS WATCH FACE AND OTHER SIDE SHOWS THE BACK AND MECHANICAL PARTS. HAS A FEW INSCRIPTIONS AND NUMBERS ON THE BACK PLATE. THERE ARE NO HEIRLOOM MARKS ON THE INSIDES OF THE LIDS.
I RESEARCHED IT BY THE SERIAL NUMBER. AN REPUTABLE ELGIN SITE STATES IT WAS MADE IN 1894, HAS 11 JEWELS, SIZE 6S, AND HAS A 3/4 PLATE. IT ALSO GAVE OTHER INFO BUT IT WAS TOO MUCH TO ADD.
PLEASE NOTE: We are not watch experts. This was in my dad's personal belongings. I do not know when/where he acquired it. I do know that it had to be before 1990.
It could have came from his dad, my grandfather, who would have been in his 20's in the late 1800's. WHITE DIAL FACE WITH BLACK HOUR/MINUTE HANDS. FRAMED INSET DIAL DISPLAYS SECONDS. 12 ROMAN NUMERALS FOR HOURS. INCLUDES THE 3 WAY METAL CHAIN THAT WAS WITH THE WATCH WHEN IT WAS DISCOVERED.
THE LONGEST STRAND MEASURES ABOUT 9 LONG. GOLD COLOR CHAIN IS STAMPED H.
1.5" DIAMETER BY ABOUT 3/8" DEEP AND 2-1/8 LONG. MISSING GLASS CRYSTAL FACE COVERING. THE KNOB PUSHES IN TO OPEN THE FRONT SPRING HINGED LID.
IT ALSO PULLS OUT AND MOVES COUNTERCLOCKWISE TO MOVE THE DIAL HANDS. HOWEVER, IT DOES NOT MOVE CLOCKWISE WHEN PUSHED IN OR PULLED OUT. RESEARCH FOUND SIMILAR ANTIQUE ELGIN WATCHES BUT NOT EXACT. THE EMBOSSED COVERS ARE VICTORIAN STYLE AND THERE'S AN UNIDENTIFIABLE IMAGE IN THE CENTER. IT WAS SUGGESTED BY A FELLOW EBAYER AND EXPERT IN THIS FIELD, THAT THE UNUSUAL EXTERIOR DESIGN AND WITHOUT HAVING HALLMARKS INSIDE THE LID, MAY LEAD ONE TO BELIEVE THAT IT MIGHT HAVE BEEN A CUSTOM MADE PIECE. PLEASE REVIEW ALL OF OUR PHOTOS UP CLOSE USING ZOOM FEATURES ON YOUR DEVICE.
MORE PICS CAN BE SENT UPON REQUEST. PLEASE SPECIFY THE AREAS YOU WISH TO REVIEW. Review photos for full details and to confirm condition. Photos are part of description to show fine details and any flaws.
Use zoom features to enlarge areas to review them closely. Additional photos of specific areas can be taken and sent upon individual request. Questions/requests are encouraged to clarify any concerns or expectations.
Please review the comments and postive feedback left by our wonderful buyers. THIS WATCH COMES IN A GENERIC RECYCLED HARD FLOCKED JEWELRY BOX WITH A HINGED LID. FRAGILE ITEMS are securely wrapped in bubble wrap, packing paper, air pillows, etc. And may be double boxed. Outside box is marked FRAGILE.
Strong packing tape is used to secure packaging. Please use extra care when unwrapping your item(s). Thank you for your interest in this item. We have quite a few unique and rare items to show you! We enjoy finding treasures from the past to decorate our home.
There's an abundance of antique and vintage collectibles just waiting to be found. It's very satisfying when they find a new home where they will be cherished again.
We are trying to do our part in the global effort to keep the planet green by preserving these treasures and their history from extinction. Together, we can help keep our amazing planet alive and instill hope for the future generations to live in a cleaner, greener world by reducing, reusing, repurposing, and recycling. We will contact you if any unexpected delay occurs. We combine orders going to 1 address as long as all items fit into 1 box.
To combine orders, request an invoice at time of checkout. Do not pay for orders until new invoice is received. Most items are rare, retired, vintage, or antique. When we provide details about an item from online sources or eBayers, we check to make sure the info is true, accurate and genuine.
Buyers can also research an item to make their own determinations. We do not claim to be experts in any specific field but our knowledge grows as we consistently research the types of items we sell. We have become more familiar with brands, markings, period styles, etc. Which helps us create accurate detailed descriptions.
This clarifies the info and prevents misunderstandings. Our items are fragile, antique, vintage, original, or one of a kind.
If they are not properly rewrapped or reboxed, they can break on their way back. It's a costly and stress inducing process. However, if you feel that we made an error, kindly let us know. If we can't show proof that the item was correctly described OR if we unintentionally failed to show a major flaw in the 12 photos, we will offer you either a discount or return label. Requests AFTER 14 days will be refused.
When shoppers shop online there are uncertainties. Send us 5-10 close-up CLEAR photos showing the damages. If you want us to submit it, then it's VITALLY IMPORTANT that you KEEP/HOLD the damaged item with ALL of the packing and original box until carrier processes claim. Once approved, we will notify you that it's okay to dispose of the broken items. Carriers might request to inspect the broken items before sending reimbursement. If they ask to review it, you must bring the original box with damaged item and packing to your post office.
The following must be written clearly on the top of the box. Attn: US Postmaster, Claims Supervisor. Ref: Damaged Claim Inspection Review. State what the issue is and give us time to resolve it. We humbly ask that you be kind, patient, and considerate.
Please give us a fair trial to discuss the issue with you and fix the problem. Negative/neutral feedback or derogatory comments are stressful, subjective and just not necessary.
We are good, honest, and reputable sellers.